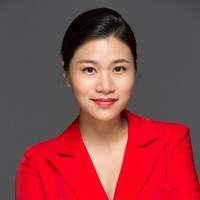 Yinan Gu
Entrepreneurship, Business speech, Sales management and happiness coach
Hourly coaching credit rate: 70
PROFILE
• Experienced and influential business leader with 20 years of B2B sales and marketing
experience in start-up, private, and multinational companies. Has strong strategic sales and
marketing management, focusing on sales process design.
• Highly recognized KOL in the high-tech industry, and an active speaker in executive
communities, investment circles, business schools, and women's leadership events.
• CEO/Executive coach helping young leaders to grow via design thinking frame
• CCE Certified happiness trainer helping people break through gridlock in career and life via
positive psychology
Have fire in the heart — Enthusiasm is Yinan's biggest characteristic! Since university, she has
continuously been a leader. Later, she shuttled around the world's major oil drilling companies
and became the queen of sales with annual sales of more than RMB100 million. After that,
Yinan became a super achiever by spending days and nights in every Best Buy store in China,
preaching and selling extended warranty services, and made Xujiahui store extended warranty
sales the best in the world. Then, she changed her career path, joined the first cloud computing
management company in China as a cofounder , and being called "First sister in cloud
computing".
In Yinan's heart, "courage forward, the pursuit of excellence" is a contemporary independent
women's creed. This passion was born from her heart, and full of energy. As a result, Yinan took
the position of the monitor of three top CEO Camps in China — Cradle plan of AAMA,
LegendStar CEO camp, and Shengjing B2B Unicorn Growth Camp. Because in the service of
others at the same time, Yinan felt the transmission of the positive energy, and the power of
"being seen".
Live with love — Yinan enjoys the sense of self-achievement brought by sharing professional
knowledge, linking with people and helping others to grow. This is what Yinan believes, how to
inspire people's leadership, how to influence all influential people, and how to be committed to
be a booster. In this process, Yinan talked about her faith on the TED stage, at the annual
conference of Bloomberg China, on the Shank Tank TV show, at 36 Changes of Sisters, and at
the women's leadership conference held by the consulates of various countries.
Driven by love, Yinan is mainly responsible for sales management, market expansion, financing
roadshow, external public relations and other external affairs, and has accumulated profound
experiences. In the process of continuously connecting with people, it's now the time to export
the mission, vision and values of the enterprise.
Give light to the world –The road of being entrepreneur is full of challenges and difficulties. It is
the coach who, with heuristic questions and deep long-term companionship, that healed Yinan,
a hard-working woman, pursues excellence but does not pay much attention to her own health
or family relationships. Therefore, after nearly 20 years of experience in private enterprises,
foreign enterprises and startups, Yinan decided to walk on the road of coaching touse this
magic tool,which helped her and the family through the darkness of life, to more people in
need.
The power of creativity is to break down all limiting beliefs. When Yinan completed the past,
returning to a woman who is passionate, life-loving, and working on changing the world – all the
way she wants to be. It is all because coaching is about inspiring and exploring human potential
and empowering a future leader to be where he or she wants to be.
After completing the evolution coaching course of ICF and the business Innovation Coaching
certification of AA Venture Capital Institute, then exploring the field of "digital Planet", Yinan
learned and practiced all the way alone. Yinan is focusing on executive leadership, sales
management, and business presentations especially to startup founders and their executive
team.
Give hope to mankind –Before being as a coach, more than 10 years of startup experience in
the cloud computing industry, makes her clear that only "technology for good" can truly
promote the development of productivity, and enable human beings to unite to fight against
poverty and hunger. As the president of ChinaNetCloud, a born in Shanghai-Silicon Valley gene
for global service startup company, she managed more than 200 employees, and raised RMB
40 million with the valuation of RMB 400 million. However, due to the fights within founders'
team, this company is winded down. This precious experience made her have the journey of
the transmigration between heaven and earth with her soul and body were mercilessly torn
and hurt, but now get comfort and peace under coach's help.
As a Shanghainese, she lives in Shanghai, China, and Silicon Valley, USA together with her
husband and son. Besides work, Yinan likes hiking, HIIT, learning new things, networking with
friends to explore different culture. Yinan is fluent in both Chinese and English.
TAGS